Celine Samson
Celine Samson is one of the UK's foremost holistic health practitioners with over thirty years of experience in wellbeing and the human psyche.
Armed with a fascination for the interconnectedness of mind and body she began her massage and bodywork practice subsequently working in the USA, Europe and Australia. Over the years she has become an acknowledged expert in a number of different therapies including remedial massage, Thai yoga massage, myofascial release in which Celine incorporates specialised scar work to release restricting holding patterns.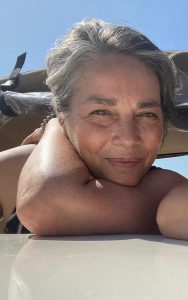 Through her successful training academy and workshops, she has passed on her skills to hundreds of massage and bodywork professionals since 2009.
Celine is a strong advocate of self-care which she promotes through 1:1 coaching sessions, helping clients from all backgrounds find a more mindful way of approaching their challenges.
Based in Henley on Thames in the UK Celine is a member of the Complementary Therapy Association, The Fascia Society and other professional bodies.
What I offer:
Combining my learnt hands on skills with my intuition, I develop a total mind body experience uniquely tailored to address each client's requirements. I use a wide range of techniques including myofascial release, deep tissue massage, stretching and joint mobilisation. I find this fusion approach has outstanding results whether it be for pain management, dysfunction or restricted movement patterns or simply needing time out to restore and rebalance mind and body.
I am big on encouraging clients to implement any stretching, strengthening or fascial release exercises I suggest for in between the appointments. Its got to be teamwork and playing your part will enhance and speed up recovery.
In addition, I offer 1:1 wellbeing coaching, whereby together we explore who you are, what you want out of life and identify where you may be limiting yourself. These coaching sessions are done in the comfort of your home using the online Zoom platform.
I look forward to meeting you soon.
Celine Samson Website: www.celinesamson.com
GO BACK