Badgemore Park house sales lead to £5,000 boost for Henley Rugby Club.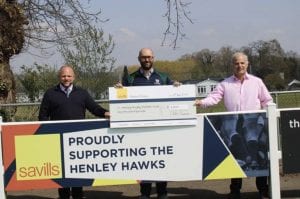 Henley RFC has received a £5,000 boost following a donation from estate agents Savills.
The property advisors are an elite sponsor of the Hawks for the 2021 season and have agreed to give £1,000 to the club every time one its members uses the office in Bell Street to sell or let their home. The most recent donation has been made following the sale of five properties at the nearby Walled Garden development in Badgemore Park, which is co-owned by Henley RFC member Jon Connell.
Charlie Chavasse, from the residential sales team at Savills Henley, said: "As expected the homes at Badgemore Park proved incredibly popular. They were finished to an exceptionally high standard and sold incredibly quickly. Henley Rugby Club plays such an important role in the local community and we're thrilled that we can support the work that they do through our cash back initiative. The scheme has proven to be immensely popular over the years – helping to raise much needed funds which the club has been able to reinvest in its facilities."
Co-owner of Badgemore Park Jon Connell added: "Charlie and his team did an amazing job. Despite the uncertainty following the first lockdown there was great demand for the houses, with a large amount of viewings followed by a number of strong offers that led to all five properties being sold in less than six months. I'm absolutely delighted that – through the Savills offer – Badgemore Park has been able to help Henley RFC during what is such a challenging time for many sports clubs."
Henley RFC commercial manager Alistair Beynon continued: "Having had no rugby for the duration of the 2020/21 season, we have been reliant on the generosity of both our members and sponsors to help keep the club going throughout this difficult time.
"A huge thank you must go to both Jon Connell at Badgemore Park and to Savills for this incredible donation, which reaffirms the commitment and long-standing partnership we have with them both. We are truly grateful for their support, and very much look forward to seeing them back at the club in September as we continue our plans for the recommencement of rugby for the 2021/22 season."