The new Trackman 4 is now available at Badgemore for the most up to date fitting! 
Get the right clubs for you, understand your game & practice better.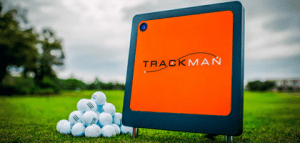 There is no doubt that technology now plays a huge role in golf. From finding the right clubs and shafts to suit your game, to knowing how far you hit each club and the carry, spin and more to enable you to both score and practice better.
Did you know that the club head meeting the ball makes impact for just one 2000th of a second. And yet, this moment has such an impact on where the ball ends up. Understanding your game and ensuring you are selecting the right equipment is vital to improving – do you know if you have a 3000 rpm spin rate or a 2000 rpm spin rate? Maximise your own potential by allowing us to use the technology provided by Trackman to help you understand your game so you can enhance it with the right clubs for you.
Twenty years ago we knew nothing of attack angles and paid little attention to club path…but now we have the ability to gain a geometric picture of your golf that you cannot understand from just viewing the ball flight. If you are going to invest in a new set of clubs, it is important that you have accurate information to hand to help you make the right decision for you!
With its heritage in military missile tracking technology, and now tracking with both radar technology and cameras to provide clubhead and ball data, we have no doubt that this is the best technology in the game. The Trackman 4 is designed by Bang and Olufsen and the distinctive orange of the Trackman is synonymous with its quality and can be seen all over the practice ranges on the professional tours.
Technology in golf is undoubtedly here to stay and we are delighted to be providing the best and most up to date version to give our members and visitors access to the equipment championed by the professionals.
Book your session with our new Trackman by calling the Pro Shop on 01491 637324 or by emailing proshop@badgemorepark.com