MORE TORO FOR BADGEMORE PARK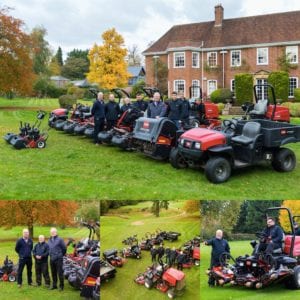 Founded in 1972, Badgemore Park has operated a like-for-like machinery replacement plan and never benefitted from the advantages of having a comprehensive machinery fleet, until now.
"We've undergone a lot of development at the club recently," says Lindsay Anderson, Head Green Keeper at Badgemore Park. "Making changes with new greens and tees and re-developing all the bunkers. Investing in a complete Toro machinery package is part of a massive investment in the club and another step in the right direction to improve the course – thus completing our 5 year plan of course improvements in time for our 50th anniversary in 2022."
It was a very thorough process for Lindsay when it came to choosing a new equipment provider. "We had demonstrations from a few brands and asked around other golf courses for recommendations," he says. "It became clear fairly soon that Toro was the way to go."
The machines entrusted with maintaining the beautiful parkland course include three Toro Greensmaster 3400s, two Groundsmaster 4300s, two GR1000s, two Workman MDX-Ds, a GM4000 and a ProCore 648 with quick time change collars fitted, which Lindsay says is his favourite.
"It's just fantastic. We have a massive aeration programme proposed for the next six months so it's going to get a lot of use and I know it will be up to the task. It's a real quality piece of engineering built for ease of maintenance and ease of operation. Plus, it's durable and reliable.
"In fact, all the machines are, which makes my job easier on a daily basis. I'm no longer constantly answering the phone to members of the greenkeeping team whose machine has broken down which would put extra unnecessary stress on us all. We've all got confidence in the machines and it's really boosted morale and productivity."