Jamie Palmer is now a PGA Pro!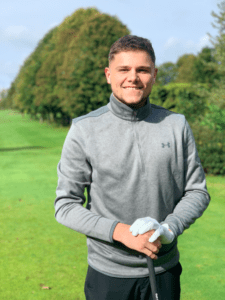 It may sound obvious, but becoming a pro means forfeiting your amateur status.
Not that that's a problem for Jamie Palmer! This month he qualified as an Assistant Professional. Well done Jamie!
You might be wondering how one achieves a qualified status?
The three-year course is the gateway into the world of professional golf. Applicants take part in a two-day Admission Review Programme at the National Training Academy, based at the De Vere Belfry. It is designed to assess the suitability of potential students to enter the profession, and it tests their commitment to the PGA, its values and philosophy.
'I am excited to be joining Martin Woodbridge, Badgemore Park's Professional Golf Coach, as his assistant. I'd like to thank Jon Connell for his support over the last three-years.'
To celebrate… we asked Jamie what's in his golf bag?
Watch the video here!
Products mentioned include: Callaway Epic Flash Driver, Callaway Epic Flash 3 Wood, Ping G400 Hybrid, Callaway X-Forged irons 4-PW, Callaway Mack Daddy 3 Wedges 48, 52, 56 degrees, Odyssey O-Works 7 Putter.