Badgemore Park's very own Lyle Philips at the US Open!
Golfer Connor Syme and Lyle Phillips (caddy) will be on your screen this week teeing it up in the US Open at Winged Foot, New York. After a fantastic few weeks on the European Tour's UK Swing they finished in the top 10 and secured a spot at this years US Open in New York.
With finishes of T3 at the Celtic Classic, T8 at the ISPS HANDA Wales Open and T8 at the Estrella Damn N.A Andalucía Masters. He's on a rich run of form that we hope carries through into this week's performance challenging with the best of the best.
Connor is currently sat 40th in the Race To Dubai on the European Tour and a OWGR (world ranking) of 206th.
With many of you watching him religiously the last few weeks we will keep our fingers crossed and if anyone fancies a dabble he is 300/1.
Good Luck boys!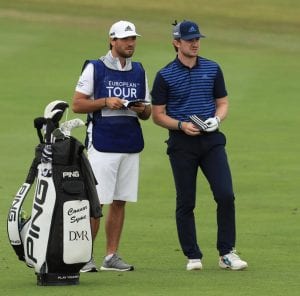 We caught up with Lyle Philips for a chat!
"So I was in Andalucia last week at Valderrama for the Andalucia masters," explains Lyle. "It went well, we finish Tied 8th in some very testing conditions around and even more testing golf course."
While it wasn't the result they wanted, we asked Lyle to recap some of the best moments, and how he finds being on tour.
"The best moments so far have been leading the tournaments. I'm getting used to being away so whilst there's a job at hand you don't miss home much, but there are always moments and not seeing my girlfriend is difficult."
And if he had to caddy for any member at the club, who would it be?
"If I had to choose a player at Badgemore Park to caddy for it would have to be Gordy! He'd have me in stitches the whole way around, and he can play some good golf for miles he has on the clock."
But Lyle also admits he's very fond of a player much closer to home…
"I love caddying for my brother (Asa Philips) as we have very similar games, minus my unexpected big rights!"