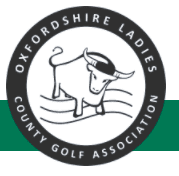 BB&O Girls' Championships
After heavy snow on Monday at Badgemore Park – Wednesday dawned bright and dry albeit with a biting wind. Despite 3 months of lockdown this competition (hosted by Oxfordshire) was able to field 27 players between the medal and stableford competitions with handicaps ranging from +2 – 29.
It proved to be a very successful day for Buckinghamshire :
BB&O Champion – Olivia Lee from Gerrards Cross Golf Club with a gross score of 71.
BB&O Nett Winner – Lily Rigby-Walden from Gerrards Cross Golf Club with a nett score of 68.
BB&O Stableford Winner – Ajuni Bains from Hazlemere Golf Club with 42 points.
BB&O Team Shield – Buckinghamshire.
Oxfordshire girls did the county proud too with Freya Coughlan claiming 4th place in the gross medal competition and 3rd in the nett medal competition. Ruby Colleton claimed 3rd place in the stableford competition and Oxfordshire 2nd place in the Team Shield. A great start by everyone for the year ahead.
Well done to everyone who played, we were thrilled to be able to welcome you to Badgemore Park in Henley-on-Thames.
Read more here: https://www.olcga.org.uk/news/bb-and-o-girls-championships