B:MORE PRO AM 2020
Thank you to everyone who joined us yesterday for our annual Pro Am tournament. With 37 teams competing, it was the biggest turnout we've had for the event and there were some fantastic scores in what proved to be very blustery conditions.
An early start on an Autumnal Sunday morning saw players start to arrive at the Club from 6.30am for a warm pre-round coffee and a bacon roll ahead of the first tee time at 7.30am. With some fantastic prizes up for grabs, including a 2-night stay and 2 rounds of golf at Le Camiral in Spain for the winners, excitement was aplenty at the registration desk. Mavrik drivers for the runners up and £1,000 for the winning professional alongside a Stoke Park fourball and Scotty Cameron putter in the raffle are just a few of the excellent prizes up for grabs on the day.
After their round, players were treated to a delicious 2-course lunch served in the Coach House with Robbie's creations receiving rave reviews amongst the groups back in the Clubhouse. A homemade white chocolate cheesecake with fresh berries and fruit coulis went down very nicely!
As Jamie Palmer, playing in his first Pro-Am as a professional, and his team headed out for the last tee time of the competition at 14.00, some competitive scores had already been posted.
With member teams using home advantage to post some impressive scores, it looked as though a score of 88 might be enough to secure victory. However, it wouldn't be a Pro-Am without a little bit of drama and when two consecutive member teams posted a score of 90, it was over to countback to decide the 2020 winner…
After a real team effort with all players contributing on at least 8 holes, the winners of the 2020 Pro-Am and the fantastic golf trip to Le Camiral, were current Men's Captain, John Grace, Vice-Captain, John Tugwell and past Captain, John Urban. Congratulations gentlemen!
It was great to have such fantastic support from members for one of the Club's flagship events for the year with 17 member teams, a 100% increase on last year and something we hope to build on again next year.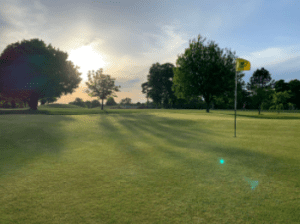 A huge thank you must also go to our event sponsors – Savile Row Travel, who put up the golf trip first prize for the amateurs and Paragon for the £1,000 prize fund for the winning professional. Their generosity and support during such uncertain times has been incredible, and a day like yesterday simply wouldn't happen without them.
Team Prize Winners
1st Place – 90 Points CB – John Grace, John Urban, John Tugwell and Matt Johnson
2 Night Holiday to Le Camirel with golf at PGA Catalunya courtesy of Saville Row Travel
2nd Place – 90 Points – Steve Carder, Ollie Carder, George Carder and Joe Simpson
Callaway Mavrik Drivers
3rd Place – 88 Points – David Haddock, Pete Foster, Ted Rooke and James Ablett
Callaway Chev C Standbag
4th Place – 86 Points CB – John Greig, Mark Wiltshere, Chris Telfer and Derek Craik
Footjoy Polo Shirts
5th Place – 86 Points –  Chris Bowman, Frank Whittaker, Nigel Dolman and Guy Woodman
Callaway Chrome Soft Golf Balls

Professional Individual
1st Place – 65 (-4) – Dan Scourfield (New Course Record!)
£1000 courtesy of Paragon Financial Planning
2nd Place – 67 (-2) – Tom Fleming
T3rd – 69 (L) – James Foster, Guy Woodman and Joe Simpson
T6th – 70 (+1) – James Ablett, Asa Phillips and Dan Seymour
T9th – 71 (+2) – Elliott Bradley and Simon McGreal
T11th – 72 (+3) – Greg Blainey, Martin Woodbridge and Adam Wootton
On Course Challenges
Nearest the Pin on the 4th Hole – Leo Allen – Fourball at The Drift GC / Mike Shrieve £75
Nearest the Pin on the 6th Hole – Nishel Patel – Fourball at Mid Sussex GC / Ozkan Baykal £75
Nearest the Pin on the 13th Hole – Terry Walker – Fourball at Mill Ride / Asa Phillips £75
Nearest the Pin on the 17th Hole – Richard Lambert – Fourball at Maidenhead GC / Vicki Harris £75
Raffle Winners Winners
Fourball Voucher for Stoke Park Golf and Country Club
– Blue 282 – Les Hines
Scotty Cameron Studio Putter
– Blue 162 – George Kay
Fourball Voucher for Oxford Golf Club
– Pink 47 – John Bowers
Fourball Voucher for Donnington Grove
– Blue 107 – Giles Hoff
Fourball Voucher for Mill Ride GC
– Blue 852 – John Tugwell
Fourball Voucher for Badgemore Park GC
– Blue 747 – Steve McIntyre
2 Dozen Callaway Chrome Soft Balls
– Blue 858 – Nick Longford
12 Titleist Velocity Golf Balls
– Blue 627- Minesh Parmar
Rebellion Beer Pack
– Blue 127- Mark Hallam
Wine, Prosecco and Brooklyn Lager
– Blue 318 – Phil Wilding
Thank you for participating, and we look forward to welcoming as many of you as possible to next year's event.