IN FOCUS: Nutritional Therapy

Maybe you've recently changed your diet or had unexplained weight loss.
Perhaps you are feeling tired all the time and want to get your energy back this Spring.
Have you been struggling with joint pain for some time?
Do digestive troubles (abdominal pain, reflux, constipation) bother you?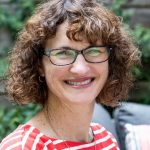 Meet Holly, nutritional therapist, based in Badgemore House, for a complimentary 30-minute session this Spring.  Book now using this link to chat with Holly.
If fixing your symptoms is a priority for you, Holly can help you get an idea of what you can do right away and what might be possible for you.  She specialises in digestive health and explored the relationship between the intestinal lining and rheumatoid arthritis for her MSc research.  The research links digestive health to total health, in particular anxiety, joint pain, and tiredness (see examples below).
Holly loves being a digestive detective and is passionate about helping her clients find a way of eating that works for their body so they can get control of their health.  She helps her clients understand what triggers their symptoms and learn how to manage them. She knows how to support you with nutrition & lifestyle recommendations through personal experience to reclaim her health, her MSc research and industry leading clinical training at the College of Nutrition and Lifestyle Management (CNELM).
Holly's clients say …
"I did what you recommended…. replacing foods that could be inflammatory, focussing more on rest and lifestyle and it worked.  The diarrhoea stopped within a few days and I'm suffering from much less indigestion since then too!" C.B
"I am so grateful to have worked with Holly on sorting out my nutritional needs. She helped me eat more flexibly, figure out my abdominal pains and made it easier to go out to eat and be more adventurous with foods. Holly's compassionate, supportive, and flexible manner and wonderful recipes helped make the changes needed to reach my outcomes. I am now pain free and in control of eating in different situations. Which is very exciting." R.S.
"Thanks to Holly's guidance about what to eat that could work for my body my symptoms were better within the first two weeks, and I had much less gas.  Food reactions since have been very mild and minimal so I'm very thankful to Holly for that." J.D.
"Holly offered a variety of coaching techniques to help me focus on making manageable and meaningful changes toward a more harmonious life for my entire family.  I received support to help with the way we communicate and spend time as a family in addition to having a closer look at nutrition and achieving a more healthy diet for us all." C.Z.
"Holly has been so helpful in enabling us to feel we are in control of a collection of symptoms that felt like they were controlling us and limiting possibilities. From the start she was encouraging, practical and supportive; she has really helped a teenager gain control of IBS symptoms and improve energy levels" J.P.
Holly offers personalised nutrition and lifestyle programmes of 8 weeks or more and has a practical everyday nutrition approach to help people manage their digestive troubles, tiredness, anxiety, joint and muscle pain.  Holly can also help you with balanced eating plans for energy and weight management and perform diet and food cupboard reviews.  Diagnostic testing (e.g., food sensitivity), and supplements are available if they are appropriate to support health recovery.  Click here to see Holly's website for more information.
Book now using the link to chat with Holly about your energy, anxiety, digestion, IBS, weight, or recent dietary changes.

What does the research show …?
The research shows nutrition factors such as plant-based eating, eating gluten free[1], probiotic supplements [2] [3] [4](3,5,6), and a Mediterranean diet[5] can help reduce symptoms of rheumatoid arthritis (RA) and be a complementary approach in combination with RA medication(s).    Movement, structural support, and stress management are also beneficial for managing RA symptoms daily for ongoing enjoyment of life.
Diet and lifestyle factors (e.g. medications, processed foods, low fibre intake, allergens, stress, and infections) may lead to imbalances in beneficial bacteria.[6]  Imbalances can result in symptoms such as flatulence, constipation, diarrhoea, abdominal pain.  Mood, sleep and energy may also be affected. Some studies show an imbalance of gut bacteria can contribute toward anxiety in some people[7].
Booking Link – https://calendly.com/hollyblenkinsoppnutrition/meetme-inclinic
Holly Blenkinsopp Nutrition
Registered Nutritional Therapist, MSc, NLP, mBANT, CNHC, ANLP
E: holly@hollyblenkinsoppnutrition.com ; T:+44 (0) 7733 453 951
www.hollyblenkinsoppnutrition.com; Facebook; Instagram
[1] Alwarith J, Kahleova H, Rembert E, Yonas W, Dort S, Calcagno M, et al. Nutrition Interventions in Rheumatoid Arthritis: The Potential Use of Plant-Based Diets. A Review. Front Nutr. 2019;6(September):1–11.
[2] Lerner A, Matthias T. Rheumatoid arthritis-celiac disease relationship: Joints get that gut feeling. Autoimmun Rev [Internet]. 2015;14(11):1038–47. Available from: http://dx.doi.org/10.1016/j.autrev.2015.07.007
[3] Alipour B, Homayouni-Rad A, Vaghef-Mehrabany E, Sharif SK, Vaghef-Mehrabany L, Asghari-Jafarabadi M, et al. Effects of Lactobacillus casei supplementation on disease activity and inflammatory cytokines in rheumatoid arthritis patients: A randomized double-blind clinical trial. Int J Rheum Dis. 2014;17(5):519–27.
[4] Zamani B, Golkar HR, Farshbaf S, Emadi-Baygi M, Tahabadi-Ebrahimi M, Jafari P, et al. Clinical and metabolic response to probiotic supplementation in patients with rheumatoid arthritis: a randomized, double-blind, placebo-controlled trial. Int J Rheum Dis. 2016;19:869–879.
[5] Guerreiro CS, Calado Â, Sousa J, Fonseca JE. Diet, microbiota, and gut permeability-the unknown triad in rheumatoid arthritis. Front Med. 2018;5(DEC):1–7.
[6] Dethlefsena, L., and Relman, D.A. Incomplete recovery and individualized responses of the human distal gut microbiota to repeated antibiotic perturbation. PNAS, 2010:1-8. [Online] Available at: https://www.pnas.org/content/pnas/early/2010/09/14/1000087107  Accessed 23 October 2019.
[7] Yang B, Wei J, Ju P, Chen J. Effects of regulating intestinal microbiota on anxiety symptoms: A systematic review. Vol. 32, General Psychiatry. BMJ Publishing Group; 2019.