Back in the Spring, a beautiful bronze statue was unveiled at Badgemore Park. It was privately commissioned by Sir and Lady Waller, and the Connell family in memory of Charlie Waller.  This emotive piece of art was created by the incredibly talented sculptor Laura Jane Wylder and her husband Sebastian. It features three figures deep in conversation.
Find out more about the Charlie Waller Memorial Trust here. 
On Wednesday 2nd October, Jon and Di Connell will continue their support of the Charlie Waller Memorial Trust by hosting a two-course Memorial Lunch at Badgemore Park  – with guest speakers Lady Aurelia Young, and Sebastian & Laura Jane Wylder.
To download your official invitation and booking info: Badgemore Invitation 2019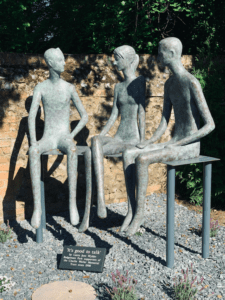 More about the guest speakers:
Lady (Aurelia) Young, the wife of Lord Young of Cookham, has written a book about her father, the sculptor Oscar Nemon, entitled 'Finding Nemon'. Oscar Nemon was a glamorous figure who led a bohemian and colourful life, having escaped from Croatia to England just before the Second World War. He sculpted many well known figures, including the Queen, Winston Churchill and Sigmund Freud.
Laura Jane and Sebastian Wylder were commissioned to make a sculpture for Badgemore Park Golf Club as a thank you from CWMT for their support for the last 21 years and as a joint venture with Jon Connell and the Club. This sculpture, entitled 'It's good to talk', is now situated outside the pro shop, and reflects the ethos of the Trust with great sensitivity. Laura Jane's contemporary bronze and stone sculptures range from small table top to large life-size pieces. Laura Jane initially sculpts in clay and Sebastian, an expert in casting, creates the mould. They work from their studio in Oxfordshire.