Supper Club at B:MORE with Greg Lewis
SATURDAY 9th November | 7.30pm
Adventurous foodies listen up! Badgemore Park is dipping a toe into the world of fine dining with the SUPPER CLUB at B:MORE with Greg Lewis. On Saturday 9th November we will be welcoming guests into The Coach House for an exclusive evening of cultured cuisine with Greg Lewis, private chef to Rupert Murdoch and Jerry Hall and one time Master Chef semi-finalist.
THE MENU, it's a secret! And if we tell you what's on it, we can't promise you won't combust with pure excitement. If you were to twist our arm… we might reveal that before you even dive into your 5 courses, there will be canapés of Torched Mackerel with Avocado and Horseradish; Pancetta Gougère; and Prune Armagnac, Iberico Ham.
AND you'll be washing it down with an award winning Champagne.
About Greg!
Greg has been cooking for 26 years, starting at the Connaught on their 5-year apprenticeship scheme. This gave him the grounding in classical French and traditional English cooking.
'My love of food and constant hunger to learn' explains Greg, 'enabled me to constantly push myself to learn new techniques, styles of food, ingredients, and cooking styles.'
In 2005, Greg worked at The French Laundry, in California – a 3 Michelin Star restaurant once rated No.1 in the World.
"Knowing the history of the dish, and respecting it's origins are of major importance to me. For example' says Greg, 'cooking a Boeuf Bourguignon Sous-Vide achieves amazing results, with the beef becoming beautifully tender, yet retaining its moisture and pink colour, but you loose many of the great sensory benefits of actual braising. The noise of the beef searing, and most definitely, the smells that fill the kitchen as it's cooking. I like to come to a happy compromise when I make mine."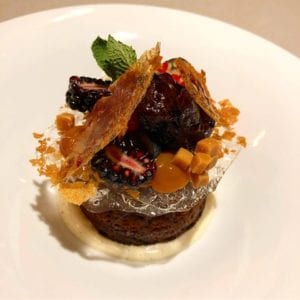 Henley Royal Regatta and model clients
For six years, between 2007 and 2013, Greg held the role of Head Chef at private members club, Phyllis Court in Henley-on-Thames. Both heading up a team of 15 chefs, and catering for up to 1500 people per day during the Royal Regatta. After a stint as Executive Chef at the British Museum, Greg was snapped up by Rupert Murdoch and Jerry Hall to become their family's Private Chef at their home in Richmond. As well as overseeing the launch of Spoon in Henley-on-Thames.
It's all this, as well as the engaging way Greg talks about food, that made choosing him to launch Badgemore Park's first POP UP SUPPER CLUB a no-brainer.
So… bring along your best appetite and savour the experience as Greg rustles up a five-course culinary masterpiece in front of your very eyes. The meal includes a food matched wine flight. It will be a relaxed evening, specially geared towards non-fussy eaters and wine lovers alike.  Tickets are £100 per person.
To reserve your seat for SUPPER CLUB at B:MORE with Greg Lewis, please email greglewis1976@msn.com or call 07908112513 
Availability is on a first come basis!