The OPEN WEEKEND was fun, wasn't it!
You might have heard, we hosted our first FOCUS OPEN WEEKEND at Badgemore Park and it was a storming success. Over two days visitors were treated to free fitness classes, TRX training, and gym tours. We also introduced Circuits to our already bulging timetable of fitness classes!
Hands up who tasted the delicious Kefir in The Coach House? We discovered that it isn't just great for good gut health, but also an amazing protein snack after working out!
No Joining Fee!
So, unless you've been hiding under a large rock with no access to social media, you now know we're offering NO JOINING FEE for September! Awesome eh?
We launched this thigh-slappingly-good deal at the Open Weekend and here's the good news – it will continue throughout September for those looking to sign up for 12 month memberships. Whoop!
Cast your eyes across the brilliant offer here: NO JOINING FEE!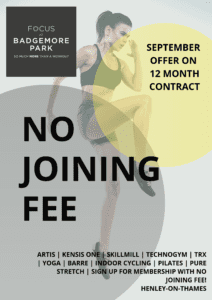 Thank you to all those who joined us at the weekend, we loved meeting you all.
Here's to a fantastic 12-months of keeping fit together. We should all B:MORE healthy for 2020, no?