FOCUS TURNS 2 YEARS OLD!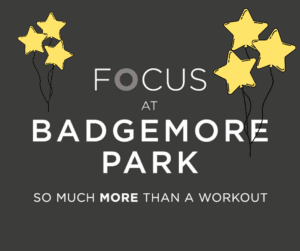 Each year, shiny new workout trends promise to shake up the Lycra-clad landscape. In 2018, we introduced BARRE to our FOCUS membership offering so our members can reap the full-body benefits of training like a prima ballerina. Barre continues to be our most highly attended class. In 2019, along came TRX and those magical yellow straps! And in early 2020 we introduced Sleek Ballet Bootcamp – which has now been added to our weekly timetable.
So, what's next as FOCUS heads into its third year?
Something we've noticed is how many of our members now use the Coach House before and after their workout! Whether it be for coffee and a chat, to work, to catch up on a few pages of a book, to eat. . . or to just socialise and meet new people.
Traditionally, British socialising revolved around boozing or complaining about the weather. But now, a third way of meeting people is muscling in – and it is boutique gyms.
For some, the gym is replacing boozing. Young people are drinking less than ever before: according to one survey, more than a quarter of 16- to 24-year-olds are teetotal. A quarter of pubs have closed in the past 35 years, and those that survive largely do so through their food offerings.
The UK private health and fitness market is now worth £3.2bn after growing 20% between 2015 and 2018. Adjunct industries, such as sports nutrition and athleisure clothing, are also bulking up (the sports food and drink industry grew by 11.5% to £77m in 2017-18). Fifteen per cent of the UK population has a gym membership.
If you haven't already signed up for a FOCUS membership, then this new trend could be just the excuse you're looking for.
Email: focus@badgemorepark.com to book your free tour!