FOCUS TURNS 2 YEARS OLD!
 
Two years on from the grand opening of FOCUS and our members are still loving everything Badgemore Park's boutique gym and fitness hub has to offer. What's not to love? We've got TRX, Sleek Ballet Bootcamp, Barre, Yoga, Pilates, an indoor cycling studio, and a state-of-the-art gym – we're seriously punching with a plethora of fitness focused goodness!
To celebrate a successful two years, we are hosting a complimentary
GYM OPEN DAY on SATURDAY 14th MARCH
for non-members who've heard all about FOCUS,
but have yet to experience it.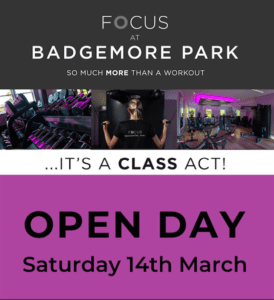 We'll be offering complimentary TRX, Indoor Cycling and Body Sculpt classes – as well as
exclusive tours of the gym. But don't forget to book!
COMPLIMENTARY MORNING CLASSES 
8.30 | INDOOR CYCLING
9.30 | INDOOR CYCLING
9.30 | TRX
10.30 | PILATES
11.30 | BODY SCULPT
We'll also have some pretty exciting membership deals on the day.
It will be tantalising offers a go-go!
Free Personal Training Sessions
No Joining Fee 
Discounted Membership Options
The FOCUS team look forward to welcoming you. Please call to book a space.
Class numbers are limited so please book early.
focus@badgemorepark.com | 01491 637300