OUTDOOR FOCUS CLASSES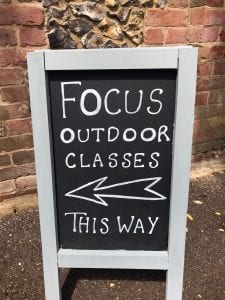 We are very excited to be starting our Outdoor Classes from Saturday July 4th in the Walled Garden whilst we wait for a confirmed date on when we will be able to re-open the FOCUS gym fully. Hopefully, this is not too far away but in the meantime, to help reinvigorate your weekly exercise, we have installed a marquee in the garden to provide cover from the elements for the varied fitness programme we are implementing for you to enjoy.
 Our 'Al Fresco Exercise'  will be available on a £10/class basis throughout July. Please check out the initial timetable and how to book below. We will be adding classes as popularity dictates and increasing the class sizes when guidelines allow.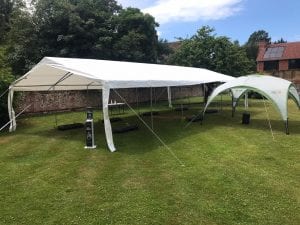 As previously confirmed, all memberships are currently frozen and no direct debit payments will be taken until we are able to re-open the gym. However, if anyone would like to re-instate their membership rather than pay per class, please email focus@badgemorepark.com and we will arrange this with you.
OUTDOOR CLASS TIMETABLE for JULY 2020
MONDAY 
 09.00 – 10.00 :: Fitness Fusion with Ali
10.15 – 11.00 :: Circuits* with Jules
18.00 – 18.45 :: Core Conditioning with Jules
 TUESDAY
 09.15 – 10.00 :: Boxfit* with Jules
10.15 – 11.15 :: Stretch and Tone with Flick
18.00 – 18.45 :: Legs, Bums & Tums with Nicky
 WEDNESDAY
 08.00 – 08.45 :: HIIT and Core with Laura
14.30 – 15.15 :: Yogalates with Julia
18.30 – 19.15 :: Body Conditioning with Jules
 THURSDAY
 09.30 – 10.15 :: Core HIIT with Jules
10.45 – 11.30 :: Pilates with Julia
 FRIDAY
09.00 – 09.45 :: Ab Blast with Laura
 SATURDAY
 09.30 – 10.15 :: Body Conditioning with Ollie
 SUNDAY
 10.00 – 10.45 :: Body Sculpt with Jules
* Boxfit will be without pads and Circuits will be a one station circuit so no equipment is shared.
Payment:
These classes will be available for £10 per class and payment will be taken by contactless card on arrival

Alternatively, members can choose to re-instate their membership if they prefer
Booking a class:
You can book a place in a class by using the members section of the website in the same way you did before the gym closed

Bookings will open up 6 days in advance (the first classes will be available to book from Sunday 28th June)

Class sizes will be limited so please book early to avoid disappointment

Due to expected demand, please only book onto a class if you can definitely make it. Any cancellations within 24 hours of the class start time will still be chargeable
Before the class:
Please arrive 15 minutes prior to the start time of the class so you can check in and warm up

Payment will be taken by contactless card ONLY so please do not forget to bring your credit/debit card

Please do not turn up if you are not booked on to the class
Safety and Equipment:
Enjoying the classes in a safe environment remains our priority. Additional cleaning practices will be undertaken by the club and socially distanced areas will be allocated to each attendee. Due to the current situation please:
Bring your own mats and equipment for the class if you are able to

Do not share equipment with anyone else during the class

Help us ensure mats and equipment provided by the Club are cleaned and sanitised before and after each class
How to book:
Log in to the members area of the website by visiting

badgemorepark.intelligentgolf.co.uk

 or clicking the 'Member's Log-in' button at the top right of the club's main website

Enter your log-in ID and pin as requested

Once you have logged in, click on the heart icon at the top of the page to view the Health & Fitness section

Click 'Make a Booking'

Select the date of the class you would like to book for

Select the class you would like to book for and follow the instructions
PLEASE cancel your space in a class if you are unable to attend, you can do this online or by calling the Club on 01491 637300 :: We are very much looking forward to welcoming you back to Badgemore Park.