Wait… what? New yoga classes!
The new FOCUS FITNESS CLASS TIMETABLE has landed, and with it comes a whopping 30 brilliant classes a week – including three new yoga classes! 

FOCUSED ON… VINYASA YOGA with MADDY
MONDAYS : 7PM | FRIDAYS : 11AM
Maddy's classes are a light-hearted and fun approach to yoga. She firmly believes that yoga is suitable for all and will work to accommodate any needs that you may have.

She offers gently challenging classes that will leave you feeling energised, stronger, more flexible and most importantly in a better state of mind.
Expect creative vinyasa flows, plenty of modifications and levels of poses offered and lots of fun!
FOCUSED ON… HATHA YOGA with ISIE
SATURDAYS : 10.30AM
Isie has bee practicing yoga in many forms for over 20 years. And she is super excited to be starting a new class with FOCUS members this Saturday!

"We will be practicing Hatha yoga and it is a class suitable for all abilities. We will start in a seated position, and sit with our breath to help calm down our nervous systems and calm our minds. From there we will start opening up our bodies to allow our natural prana (or energy) to be released to help heal ourselves from within. You will feel stretched, soft and relaxed just in time for the best bit of class where you rest on your back and I will lead you through a guided meditation."
NOTE: "There is no judgement or attachment in this class, and smiling or laughing is always encouraged!"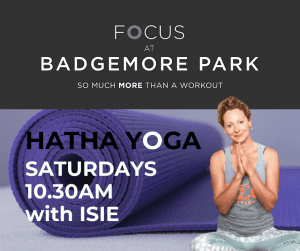 For more information on these classes, or FOCUS membership please contact the gym team on focus@badgemorepark.com