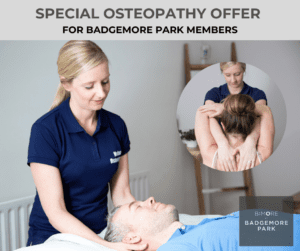 SPECIAL OSTEOPATHY OFFER
FOR BADGEMORE PARK MEMBERS
We'd like to introduce Maria and Sian from Nolan Osteopathy. They're based in Badgemore House – on your left as you enter the Badgemore Park car park.
Specialists in muscle and joint problems, these skilled Osteopaths use techniques such as soft tissue massage (plus stretching and improving the mobility of your spine and other joints in your body). They believe that with the right advice and treatment – and some simple lifestyle changes – it is possible to start enjoying life to the full.
Osteopathy is a treatment for the whole body, but more commonly areas such as the back, neck, shoulders, hips and knees. They also treat lots of patients who struggle with persistent headaches or repetitive strain injuries, caused by their profession or lifestyle. Find out more on the website: www.nolanosteopathy.co.uk
Badgemore Park has teamed up with Nolan Osteopathy, who are now offering all our members £5 off each at every appointment. This offer is valid for all new and existing patients of Nolan Osteopathy.
To claim: Show your Badgemore Park Membership Card to your Osteopath at the appointment. There is no expiry date on this offer, and you are welcome to use it as little or often as you like.
To book an appointment:
Call 01491 281972 or book online at www.nolanosteopathy.co.uk