Solheim Cup winning captain, Catriona Matthew, visits Badgemore Park as part of a charity day to raise funds for the Men's & Lady Captains' charities.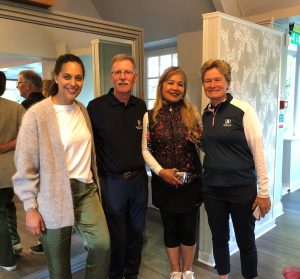 On Thursday 1st June, Badgemore Park welcomed a special guest for a unique charity event which saw professional golfer and Solheim Cup winner, Catriona Matthew, visit the club. As well as an 18-hole competition, attendees enjoyed the opportunity to join a golf clinic hosted by Catriona Matthew in which she showcased her incredible talent as well as providing tips on both long and short game. Following a wonderful 2-course dinner, Henni Koyack, Sky Sports Broadcaster, hosted an Audience with Catriona Matthew and the chemistry between the pair, with Henni being a former professional in her own right and having played Solheim Cup with Catriona, was incredible. Sharing anecdotes from "inside the ropes" held everybody's attention from beginning to end – from team room "secrets" to insights into a typical day in the Sky Golf studio, the time flew by.
Lady Captain, Maggie Stanley said "I think it was a very successful day from all the positive feedback received & how they enjoyed the day. Great insight, very interesting and a lot to take in from Catriona's clinic. Some ladies said they could watch & listen to her the whole day. Such flawless skill, so effortless when she hits the ball. This is a memorable and unique event for our club.  I'm grateful for the privilege of having her showcase at Badgemore".
Men's Captain, Les Hines, added "having the opportunity for such key personalities in the golf world to spend time with us at Badgemore Park was fantastic. What a great time to be captain and co-host for Catriona and Henni. Catriona was so generous with her time, both during the clinic and, together with Henni, at the audience in the evening. She gave us all a real view of her game and what goes into being the champion that she is. Her interaction with those in attendance showed why she made such a successful Solheim Cup captain".
It wasn't just a successful day for those in attendance, it also raised a great amount for both the men's and lady captains' charities. This was done through the auctioning of 4-Ball vouchers and 2 "money can't buy" experiences. Four lucky people will be spending a broadcast in the Sky golf studio with Henni and the other hosts. Four more will be the guests at the AIG Women's Open at Walton Heath in August.
Catriona was certainly impressed with her first visit to Badgemore Park and is looking forward to a return. She said "I really enjoyed my first visit to Badgemore Park. The practice facilities were great and perfect for giving a clinic. The course looked stunning and I'd love to come back and play it one day.  We then had a fun dinner with the members and guests, where both the food and company were excellent!"
A huge thank you goes to Catriona and Henni for their contributions to making this event a memorable occasion that Badgemore Park was delighted to host.