Snooze at Badgemore Park recognised in Travelmyth Awards 2022!
As well as being recognised in 9 categories, Badgemore Park won 3 top ranking awards in the 2022 Travelmyth Awards positioning itself within the Top 3 Small Accommodation providers in Henley-on-Thames, the Top 10 Accommodation providers in Henley-on-Thames and the Top 50 Small Accommodation providers across the county of Oxfordshire.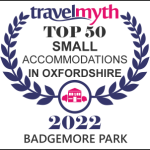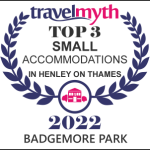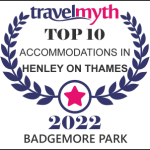 Our 4* B&B accommodation delights our guests by offering the opportunity to relax in beautiful surroundings and soak up the historic town on Henley. Our accommodation is set within its own beautiful, private walled garden right in the middle of the parkland, but just 100 yards from The Coach House – which offers breakfast, lunch and afternoon tea, plus a fully stocked bar and a team on hand to look after guests from the minute they arrive.
We're biased, but we truly believe Henley-on-Thames to be the most beautiful town in England. Not just home to the Henley Royal Regatta, but a location for year round music, food, literary and art festivals offering a plethora of activities to delight visitors.
Henley's riverside location lends itself to relaxation, boat trips and stunning walks. There are vineyards to visit, as well as the River and Rowing Museum.
As well as a comfortable night sleep in a stunning location, Badgemore Park also offers its B&B guests access to ample free parking, on-site Health & Wellbeing businesses offering an array of treatments and services. Oh…and for the fitness fanatics that are coming to stay, all guests receive complimentary access to our state-of-the-art gym during their stay.
What more could you ask for?
For more information, or to book a stay, click here.