18th hole water feature work is underway!
Work is now underway on the installation of the new water feature on the 18th hole at Badgemore Park.
This exciting development includes the installation of a pond in front of the green to create a dramatic finish to each round of golf. Frank Lovell and his team, who have worked on a number of the on-course projects at the club, returned on Wednesday 3rd November to start the works and in just a few days, significant progress has been made and the new layout is starting to take shape.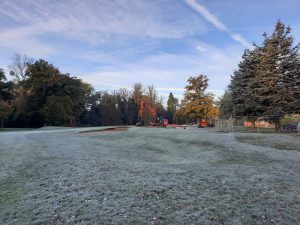 The project is scheduled to be completed in early December and is the final project of the club's 5-year improvement plan ahead of our 50th Anniversary year in 2022 – something we will commemorate in style throughout the year (who doesn't love a good excuse for a celebration or two!).
The detailed 5-year improvement plan started back in 2017 following a thorough review of how the club wanted to improve both its on-course and off-course member and visitor experience, which included a hole-by-hole analysis of improvements works on the golf course, of which the changes to the 18th were one of a number of significant projects.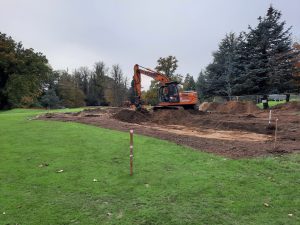 The recently installed lower terrace now overlooks the 18th green and provides the perfect vantage point to sit back, grab a drink and a bite to eat and watch the drama on the 18th unfold!
As with all great golf holes, the 18th at Badgemore Park will not only look visually stunning but will also provide a real test of the golfer's nerve and ability – will you take on the water?
Below is an artistic impression of the completed project painted by David Weller, of Weller Designs, the golf course architect who redesigned the hole to give the dramatic finish.