JOIN US! ENJOY EVERYTHING MEMBERSHIP AT BADGEMORE PARK HAS TO OFFER
The golfing community at Badgemore is thriving, and our team is standing by to enthusiastically welcome new members of all ages and levels of experience.
We encourage members to participate in our full and varied calendar of club golf and social events. We organise numerous fixtures against local clubs, various weekly roll-ups, summer and winter knockouts and monthly competitions for all types of golfing member. Our social calendar is similarly hectic and you'll love the wide variety of fun-filled events throughout the year. So, whatever you're looking for from your golf membership, Badgemore Park is the perfect place to find it.
Family and junior golf are always at the forefront of our thinking, which is why we offer a complimentary junior membership with every full 7-day membership. The club holds the GolfMark & SafeGolf accreditations so, if you have children or grandchildren aspiring to be the next Justin Rose or Tommy Fleetwood and you're looking for a family membership, you know where to come!
And since 2018, membership at Badgemore Park also includes complimentary membership of our state-of-the-art, boutique gym and fitness hub; the perfect place to work on your fitness to benefit your game! Enjoy daily access to the gym and an unrivalled and continually evolving programme of over 40 complimentary cardio, core strength, conditioning and relaxation classes all included at no extra cost.
We have also recently launched our long-term membership offer with 3 months free when joining our our 18 months for the price of 15 option.
Click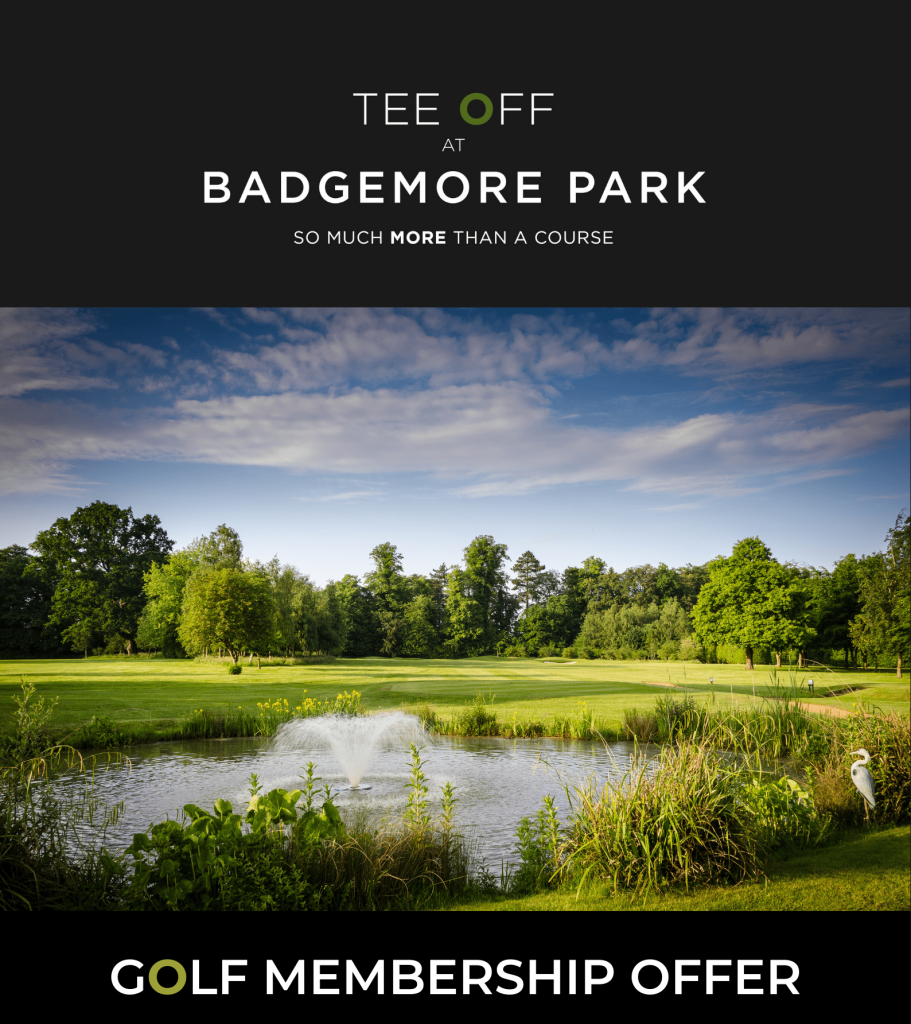 3 MONTHS FREE MEMBERSHIP!
Enjoy 18 months for the price of 15 with our long-term membership offer.
To register your interest and to download a copy of our membership brochure, please fill in your details below.
WHAT ELSE IS ON OFFER?
As mentioned above, all golfing members are automatically enrolled as members of FOCUS, our state-of-the-art boutique gym and fitness hub, which promises a workout experience like no other. We currently offer a schedule of 45 complimentary cardio, core strength, conditioning and relaxation classes per week, ensuring members benefit from the best class/member ratio in the Henley-on-Thames area.
Our stylish Clubhouse, a converted 18th century coach house with a stunning outlook on our parkland estate, is also available to members from 7.30 every morning. Come and relax and enjoy a cooling (or warming!) drink before and after your round of golf. Our resident chef and his talented team also offer a variety of mouth-watering, healthy menus with a creative touch – enjoy a fresh, delicious and nutritious breakfast, lunch or dinner. Warm hospitality is guaranteed and all food and drink purchases through your membership card receive a 10% discount.
Membership also brings playing rights at our sister club, The Drift, in East Horsley, Surrey. Visit www.driftgolfclub.com to find out more.