 Activate Training and Sports Therapy
Lucy McDonald, owner of Activate Training and Sports Therapy, is a fully qualified sports therapist, fitness instructor and pilates instructor and runs a clinic at Badgemore Park every Monday.
She believes that sports therapy is not just for athletes but can be applied to anyone who has muscles or soft tissue pain; whether that be from overuse, bad posture or injury specific pain. Whether you have a specific injury or just want a maintenance massage to ensure your muscles are well looked after, then Lucy would be delighted to help you.
As a Sports Therapist she is experienced in dealing with musculoskeletal problems, treating pain and injury through a variety of hands-on treatment modalities. She helps her clients to learn about their bodies and how to rehabilitate injuries, ensuring they are back on their feet as quickly as possible. She focuses on restoring, maintaining and maximising movement & relieving pain. Simply put, she can help you move better and feel better.
She has always been involved in Sports and has represented England in Touch Rugby for 6 years, retiring in 2019. She loves working with athletes and has experience with a number of national and international athletes, but you absolutely don't have to be an athelete to come and see her. Whatever your level of activity Lucy would be delighted to help you.
Aims/benefits of Sports Therapy/Sports Massage:
To restore full function to muscles and soft tissues
Reduces stress and relieves tension
Promotes relaxation
Loosens tight muscles
Improves formation of scar tissue
Increases blood circulation
Speeds up the healing process
Improves posture
Reduces swelling
Helps prevent injuries
Can extend the life of your sporting career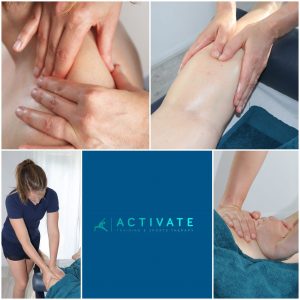 Services
1st appointment (60 mins) £50 – During which a full history will be taken, postural and functional assessments carried out and a treatment plan will be devised, using the rest of the appointment for the commencement of treatment.
Thereafter – depending upon the condition you are having treated a specific amount of treatment time may be advised in order to ensure treatment can be completed, otherwise it is down to your preference as to the length of your follow up appointments.
30min appointment – £28
45min appointment – £40
60min appointment – £50
Website
I do not currently have a website but I do have a Facebook page here – https://www.facebook.com/ActivateTST
GO BACK